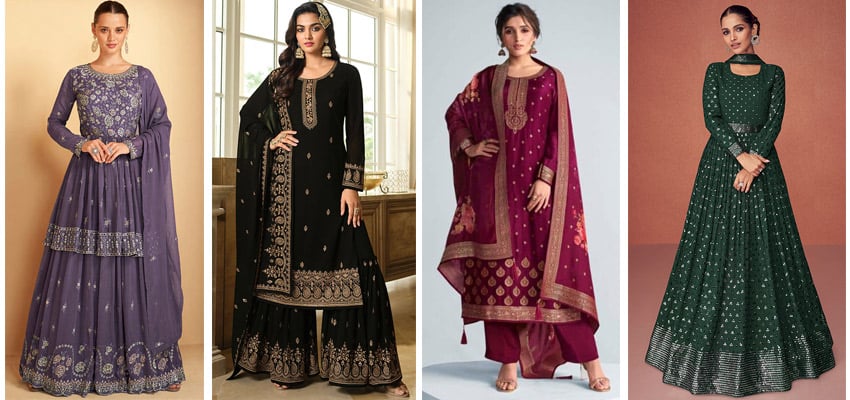 The global market is at its peak for the Indian fashion sector! Indian ethnic attire is increasingly in demand, according to in-house fashion designers. Due to the sizable Indian diaspora abroad, there is a continuing demand to produce chic yet distinctly Indian items. To serve the big audience that resides overseas ethnic Salwar Kameez outfits are exported in significant quantities. These stunning outfits are catching everyone's hearts for everything from casual wear to ethnic celebrations and even weddings! Let us browse the newest ethnic salwar suit designs here in detail.
Salwar kameez is a typical Indian attire that is made from two elements. The first is a closed shirt which varies in length from the thighs to the knees, known as the kameez. As the length of the shirt only extends to the knees, it is teamed up with loosely fitted bottoms that flare around the hips and taper at the ankles, known as the salwar. The outfit is completely known as the salwar kameez. Designs for salwar kameez have no bounds regarding fabric usage, embellishments, and cuts. A tweak here and then can result in a different form of a salwar kameez design. No doubt, there are typical dresses like the sari and lehenga choli formal or exclusive usage only these outfits are completely versatile.
28/06/2020| Posted in
Lehenga
| 1185
Eid is also known as the day of joy. It is a festival when everyone from women to the children, all needs a perfect dress for the celebrations. Especially for women, Eid is the time to dress up in fancy clothes, wear statement jewelry, colorful bangles and fashionable footwear.